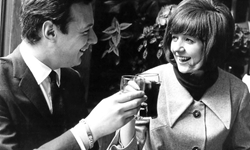 And if anyone would know, it would be Paul McCartney, whose words those are.
George Harrison once said that the MBE he and his fellow Fab Four bandmates were awarded in 1965 stood for Mr Brian Epstein.
Epstein was the musical entrepreneur who discovered The Beatles during a lunchtime performance in The Cavern Club in November, 1961.
He said: "I was immediately struck by their music, their beat and their sense of humour on stage. And even afterwards, when I met them, I was struck again by their personal charm and it was there that, really, it all started."
They signed a management contract in February, 1962 — a document sold at auction in 2008 for £240,000.
But it took months of hawking the band around disinterested record labels before George Martin finally agreed to sign them to Parlophone — largely because of Brian's conviction they would become internationally famous.
Epstein had briefly attended RADA — where his classmates included Albert Finney and Peter O'Toole — and this influenced his decision to smarten up the group, swapping their jeans and leather jackets for suits and introducing the famous synchronised bow at the end of their performances.
Source: Alan Shaw/The Sunday Post