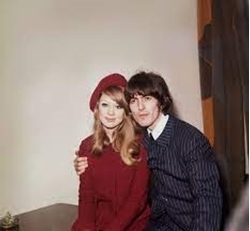 George Harrison and Pattie Boyd's relationship was marred by extramarital affairs.
A former assistant to The Beatles said Pattie Boyd made the right decision when she left George Harrison.
George Harrison and Pattie Boyd had a friendly relationship later in life.
After her divorce from George Harrison, Pattie Boyd was left feeling incredibly guilty. Both were involved in extramarital affairs, and Boyd said that Harrison barely spoke to her toward the end of their relationship. Still, she wondered if she'd made a mistake. After running into The Beatles' former assistant, though, she felt more assured that the separation was a good idea.
Boyd and Harrison married in 1966. While Boyd said they were very much in love, the connection between them began to wilt as time passed. Harrison conducted multiple affairs, and after dedicated pursuit by Eric Clapton, Boyd began an affair with him.
Harrison grew increasingly distant and cold, but Boyd said the final straw came when he started an affair with Maureen Starkey, Ringo Starr's wife. To add insult to injury, they conducted the relationship at the home Boyd and Harrison shared, sometimes even while she was home.
Source: cheatsheet.com