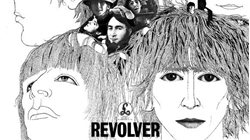 A Dallas-based auction announced plans to sell what's said to be the first recording contract signed by the Beatles. It is expected to sell for $150,000, as part of a larger collection to be sold on September 19. (Aug. 21) AP
"Revolver" probably would have been a very different album without drugs and Indian music.
The former inspired much of John Lennon's inventiveness, which paved the way for the legendary "Sgt. Pepper's Lonely Hearts Club Band" the following year. And the latter heavily influenced George Harrison's songwriting and musicianship as he contributed three of his own songs.Revolver" by The Beatles. (Photo: Submitted)
Released on Aug. 5, 1966, in the United Kingdom, the album directly preceded the band's final concert on Aug. 29, 1966, in front of 25,000 people at Candlestick Park in San Francisco.
"Musically, I felt we were progressing in leaps and bounds."
— Ringo Starr, The Beatles
During the recording process the band spent about 300 hours in the studio, where producer George Martin said their ideas were beginning to become "much more potent," according to TheBealtes.com. Ringo also recognized the more experimental nature of the album, building on what they started with "Rubber Soul."
Source: The Spectrum.com