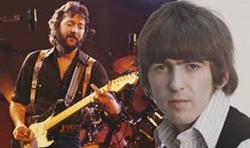 The Beatles worked hard to craft their sound over the years, and fans of the band have since fallen in love with the various nuances through each of their albums. Over the years the band created many albums with hugely different styles and themes. The White Album is perhaps one of the most popular albums the band made, as it includes many enormous hits for the band.
Crucially, however, it includes While My Guitar Gently Weeps.
The songs is an emotional display of George Harrison's feelings, and divulges some of his best songwriting of all time.
Despite these facts, the young star struggled to get his band to record it with him.
Speaking out about this experience in Anthology, he explained how he instead turned to pal Eric Clapton when Paul McCartney and John Lennon wouldn't help him out.
Source: Callum Crumlish/express.co.uk