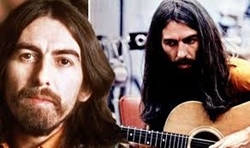 The Beatles collected a huge amount of music and songs over the years they were active. While the fab four from Liverpool managed to write songs in their bedrooms, recording studios, and other illustrious places, they also attempted to transcend to higher levels of consciousness by visiting India and exploring a spiritual connection.
During the band's visit to India, they were entranced by Maharishi Mahesh Yogi, who taught them the ways of meditation.
This method of meditation allowed them to look deeper within themselves, and potentially create new music.
It is just after this trip that the band created The White Album - one of their best known works.
However, one of the songs was written by George Harrison, and includes a unique story behind how it came into being.
Source: Callum Crumlish/express.co.uk