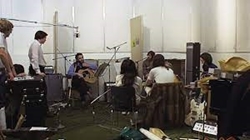 Hardcore fans of The Beatles like to think they know everything about the band. Most have bootlegs of recording sessions, live shows, and bookshelves full of books documenting—sometimes to the hour—what any of them were doing personally and creatively during the group's 10-year run.
Yet even those fans are hailing Peter's Jackson's new Disney+ exclusive docuseries, The Beatles: Get Back, which curates and culls down 50+ hours of footage from the Get Back sessions that reveals, from a fly on the wall perspective, when the creative magic was coming to a close in early 1969.
Even with anecdotal stories or their voices captured in the recording sessions bootlegs, the docuseries is the most contextual and revealing artifact to exist that expresses, in their own words and deeds, what was going wrong amongst the Fab Four. And because of that, the new knowledge gleaned for fans and music historians is nothing less than legendary.
Source: Garrett Martin and Paste Staff