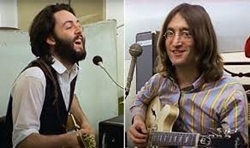 The Beatles: Get Back will show The Beatles like fans have never seen them before. Director Peter Jackson pored over all the footage captured for the film Let It Be and assembled previously unreleased footage into a new three part series. Jackson promised many surprises for Beatles fans, including one moment where George Harrison put his foot down with John Lennon and Paul McCartney.
The personalities of each of The Beatles came through to Jackson as he reviewed the footage. He found Harrison to be the voice of reason.
"George, I love," Jackson said. "One, he's the pragmatic one which everyone needs that."
The Beatles: Get Back shows the band discussing their final concert in the theater ruins in Libya. That concert might have been even more elaborate if Lennon and McCartney had gotten their way. Apparently, Ringo Starr stayed out of it.
Source: cheatsheet.com