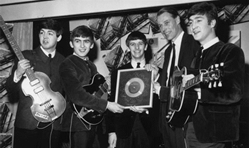 The legendary "fifth Beatle" died two years ago after a lifetime as a successful record producer.
And now a new biography is claiming Martin had a "cold war" with The Beatles in 1968 when they recorded The White Album.
Author Kenneth Womack details the affair in his new book, Sound Pictures: The Life of Beatles Producer George Martin, the Later Years, 1966-2016.
The Guardian reveals the claim is that Martin would turn up to recording sessions and just sit reading newspaper and eating chocolate.
Womack alleged: "I asked them [the sound engineers] what George was doing when John was playing a particularly guitar part or when Ringo was working on some drum part.
"They would say 'nothing, he was in the back of the booth, reading newspapers, sharing his chocolate with us.'
Source: George Simpson/express.co.uk