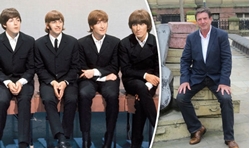 Leslie Cavendish was the Beatles' hairdresser for nine years at the height of their fame
Fifty years on he can still vividly remember the moment his life changed for ever.
It was an ordinary Saturday in October 1966 and Leslie had just finished styling actress Jane Asher's hair at the Vidal Sassoon salon in London where he worked.
As he removed the gown from her shoulders she asked whether Leslie was free later that day to do a house visit "as my boyfriend needs a haircut".
Her boyfriend was of course McCartney.
Source: Sadie Nicholas