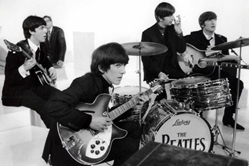 They might be the icons of a musical revolution in the early 1960s, but now science is questioning whether The Beatles' music from that era was important.
"I think that our estimation of the Beatles' importance at that time, or how we think about them, has become vastly inflated," evolutionary biologist Professor Armand Leroi from Imperial College London said.
beatles full program teaser
He said the music that launched the Beatles onto the global stage — including songs like I Want To Hold Your Hand, She Loves You and Ticket To Ride — "is in fact relentlessly average".
And he said he had scientific evidence to back those claims up.
What can science tell us about the Beatles?
Source: Carl Smith