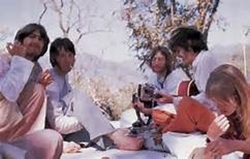 The storied "Beatles Ashram" awaits beyond a long and winding road across the Ganges River in Rishikesh, the Himalayan town where The Beatles lived in 1968 and composed their curious chapter of renunciation.
Nearly five decades later, the ashram is derelict yet still alive, a peaceful yet eerie abandoned ghost village that the Rajaji Tiger Reserve is now slowly consuming – like endless desires eating away humans and demigods of fame and fortune as The Beatles were circa 1967.
The iconic British band met Transcendental Meditation founder "Maharishi" Mahesh Yogi in London in 1967, and their India odyssey followed. And worldwide media attention followed them.
"I followed The Beatles to Rishikesh with my photographer colleague Raghu Rai," Saeed Naqui reported in Indian newspaper The Statesman. "Almost every newspaper in the world had sent their senior reporters. Not to much avail, though. The ashram was out of bounds for the media.
" … We walked on 'til I spotted the Maharishi under a tree with The Beatles. I promptly sneaked Raghu Rai in and he took a shot with the aid of his zoom lens. The Statesman had its scoop."