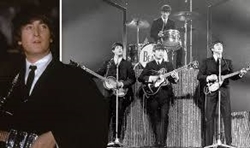 The Beatles had extremely dedicated and excitable fans back in the 60s. At each gig a large group of teenage girl fans fought their way into the press conferences held just before the band went on stage, in an effort to catch a glimpse of the fab four.
September 18, 1964 was no different, as John Lennon, Paul McCartney, George Harrison, and Ringo Starr all arrived at the Dallas Memorial Auditorium.
A group of young women attended the press-only press conference to try and talk to the band.
But the real story begins just after this, as the band were heading to the auditorium's stage.
The stage itself was three times larger than the normal height for standard concerts for The Beatles, giving them quite a view over the 10,000 fans that had come to see them.
Source:Callum Crumlish/express.co.uk