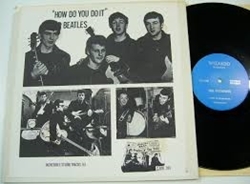 It may be known as the Beatles hit that wasn't, but "How Do You Do It" embodies an era in pop music.
When the Beatles first signed with Parlophone in 1962, few artists wrote their own material. Producers would usually select appropriate songs for them, written by professional composers Artists (particularly new ones) simply recorded material chosen for them; after all, songwriters and producers knew best what songs would perform well on the charts.
The Beatles broke that rule, however: Shocking producer George Martin and engineers Norman Smith and Geoff Emerick, John Lennon decried the surefire hit "How Do You Do It" as "crap" and stated that he and Paul McCartney had written better material. The song they countered with: "Please Please Me," the track that kicked off the Beatles' career. Martin subsequently gave "How Do You Do It" to Gerry and the Pacemakers, who rode the track to No. 1 on the UK charts and cracked the Top 10 in the U.S.
Source: by Kit O'Toole/somethingelsereviews.com