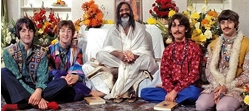 It didn't work out the way they thought it would. They left sooner than they intended. The parting was ugly. They did not learn the secret to happiness. But their brief sojourn in India changed the Beatles in ways they never expected.
"I think it might have just sort of saved their sanity," says Rock biographer Philip Norman. Norman spoke recently at the Jaipur Literature Festival about the Beatles and India with Ajoy Bose, the author of the just-released book Across the Universe: The Beatles in India.
50 years after that famous trip, we can look back at it with rose-tinted glasses. After all, nostalgia can be good for the tourism business. "We have earmarked the last three days of the [International Yoga] Festival to celebrate 50 years of the Beatles' visit to Rishikesh," says Uttarkhand Tourism Minister Satpal Maharaj. In fact, the 14-acre Chaurasi Kutia Ashram where they stayed had fallen into disrepair, the buildings crumbling, covered in graffiti, largely ignored by the local government after Maharishi Mahesh Yogi left. "At the last minute, they are waking up to the possibility," says Ajoy Bose, "Now I am hearing there will be a museum." A California-based tribute band, the Fab Four, will play in Rishikesh on 6 March as part of the special Beatles commemoration.
Source: firstpost.com