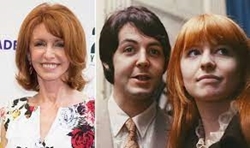 Jane Asher met the Beatles on April 18, 1963, at the Royal Albert Hall. The band had exploded onto the scene after their second single, Please Please Me, topped the charts that January, followed by three more singles and the album of the same name. Jane was only 17 but she was already famous herself as a child star and young actress in films like The Prince and the Pauper and television's Robin Hood series. She was also a panelist on the BBC's hugely popular and influential Juke Box Jury, which rated new music releases. She had already caught Paul's eye.
Paul later said: "I met Jane Asher when she was sent by the Radio Times to cover a concert we were in at the Royal Albert Hall – we had a photo taken with her for the magazine and we all fancied her.
"We'd thought she was blonde, because we had only ever seen her on black-and-white telly doing Juke Box Jury, but she turned out to be a redhead. So it was: 'Wow, you're a redhead!'
"I tried pulling her, succeeded, and we were boyfriend and girlfriend for quite a long time."
Source: Stefan Kyriazis/express.co.uk