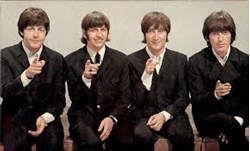 The Beatles memorabilia reportedly valued at 'millions of pounds' might see its prices slashed after it was revealed that the band members used to fake each other's signatures, according to The Sun.
Jools Holland has a record from the Fab Four, and he revealed it was covered in autographs from the stars which were, in fact, all written by guitarist George Harrison.
The musical legend and TV presenter, 63, said on the Jools and Jim's Joyride podcast: 'George Harrison gave me a Beatles record all signed entirely by him.
He said that when they started, they'd have to sign thousands of autographs for the Beatlemania fans so they'd all practice and know how to do each other's.'
In 2020, a Sgt Pepper's Lonely Hearts Club Band album dating back to 1967 was signed by the late George, Sir Paul McCartney, the late John Lennon and Ringo Starr. It reportedly sold for more than £129,000.
A sealed lock from one of the The Beatles' head was previously available on eBay for the price of £29,000.
The seller claimed the strand is genuinely from one the Fab Four - and was cut off after a tour in the 60s.
Source: Natasha Hooper/dailymail.co.uk