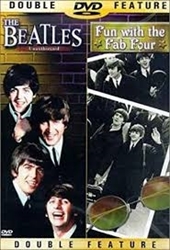 Everyone knows The Beatles right? Y'know four lads from Liverpool, the most successful and influential band of all time, responsible for some of the greatest music in history.
They're also responsible for a whole wealth of films inspired by their career that stretch from touching and inspiring to downright bizarre. Almost as bizarre as the story of the band's attempts in the 60s to obtain the film rights to JRR Tolkien's epic tale Lord Of The Rings in which they would star.
Unfortunately Tolkien declined but now over 50 years later The Beatles/Lord Of The Rings connection has resurfaced following news that esteemed Lord Of The Rings director Peter Jackson is to direct a brand new Beatles film based on their final album Let It Be featuring over 55 hours of unseen studio footage shot in 1969.
It will mark the latest celluloid chapter of The Beatles story to go alongside five of the most notable ones that we've highlighted below.
Source: ClashMusic