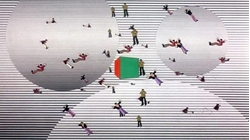 George Martin dubbed it "the song I hated most of all." In his book Here, There and Everywhere, Geoff Emerick called it "substandard," a "weak track" with "minimal content that seemed to go nowhere." Ian MacDonald dismissed it as "dismal" and a "self-indulgent dirge" in Revolution in the Head. George Harrison later described it as a "piss take."
Indeed, "Only a Northern Song" is rarely ranked among fans' favorite Beatles songs. Does the song deserve to be dismissed as insignificant? It may not be listed among all-time favorites, but the track is notable for its psychedelic elements, as well as addressing a piece of Beatles history.
Indirectly, "Only a Northern Song" references the Beatles battle over publishing rights. How the Beatles lost ownership of their own songs dates back to 1963, when Brian Epstein decided to form a publishing company that would maintain ownership of the Beatles' compositions. Music publisher Dick James, Epstein, John Lennon, and Paul McCartney became majority owners of Northern Songs, Ltd. The two Beatles each owned 20 percent of the business. Just two years later, Northern Songs went public, with Lennon and McCartney each owning a 15 percent stake while George Harrison and Ringo Starr split a small percentage.
Source: Kit O'Toole