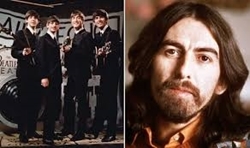 George Harrison sadly died almost 20 years ago and would have turned 78-years-old this week if still alive. Nevertheless, his incredible legacy with The Beatles lives on to this day. And now Sir Paul McCartney and the John Lennon estate have celebrated what would have been George Harrison's 78th birthday on February 25, 2021.
Sir Paul shared a picture of himself with George in what looks like the late 1960s.
The 78-year-old wrote on his Instagram: "Have a great day on what would have been my mate George's birthday - Paul."
While the John Lennon estate shared a picture of John and George during the same period and some earlier ones too.
They wished the Quiet Beatle a happy birthday, before recommending the John and George playlist.
Source: George Simpson/express.co.uk