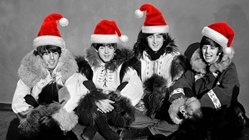 If you're someone who has ever kept Christmas cards from a person who was a powerful presence in your life at one time or another, you've perhaps noted how the sentiments they've expressed to you have changed over the years.
It can be quite an emotional surveying: to sit there with these collected cards in hand, shaking your head at the mutability of bonds between people. For years now, I've done a version of that with the Beatles' Christmas fan club recordings—their holiday Valentine, in essence, to the people who bought their records, got their newsletter, and supported them at the most hardcore of hardcore levels.
Beatles collectors have pined for a release of these recordings, which usually comprise five or six minutes, for years now. I was trying to think what might sit atop a Beatles fan's wish list for material in the vaults that has yet to come out, and we're talking top five desires here. This year, a Christmas wish of sorts is sated, as Apple bestows upon us a lavish box set, dubbed The Christmas Records—on colored vinyl, no less, with original sleeves reproduced—of what had originally come out on what was called flexi discs.
Source: Colin Fleming