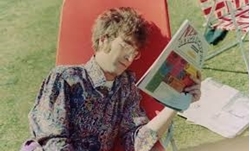 From his days as a teenager in Liverpool, John Lennon was a rock 'n' roller at heart. And, after over a decade with The Beatles, he hadn't really changed. Thinking of his favorite songs with the Fab Four, John put "Come Together," the rocking track that opened Abbey Road, at the top of his list.
Other than "I Want You (She's So Heavy)" and the other songs that made up the first side of that album, John didn't think too highly of Abbey Road. His chief complaint was "that sort of pop opera" that closed out the record. (John flatly called the medley "junk.")
Looking back on his career with The Beatles a few years after the breakup, John spoke of what he loved about the band. Unlike his bandmates (as well as legions of fans and critics), John didn't point to Sgt. Pepper's or Abbey Road as the band's high points.
For him, the rawer music on the self-titled, double-album release of 1968 — later known as The White Album — represented the band at its best.
Source: cheatsheet.com