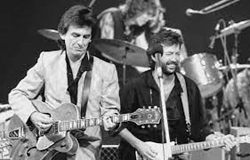 The Beatles almost sacked George Harrison and were reportedly thinking about replacing him with Eric Clapton, according to a newly unearthed interview with John Lennon.
The tape hears Lennon threaten to replace Harrison with Clapton after the guitarist temporarily quit the band in January 1969, during the recording sessions for the band's final album, 'Let It Be', reports The Daily Mail.
The sudden departure of Harrison – who felt that his songs weren't getting as much attention as those of Lennon and Paul McCartney – worried McCartney and Ringo Starr. Lennon, however, while sympathetic, was also practical about the situation.
Lennon said that Harrison's attitude had been "a festering wound and we allowed it to go deeper and we didn't even give him any bandages."
The 'Imagine' hitmaker then suggested that his place in The Beatles be taken by fellow guitarist Clapton. "I think if George doesn't come back by (next week) we ask Eric Clapton to play," Lennon said.
Source: Will Lavin/nme.com