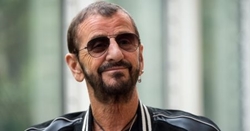 In a move that will prompt many to say "About bloody time," The Beatles' drummer Ringo Starr and Bee Gees' lead singer Barry Gibb received their knighthoods this week from Her Majesty Queen Elizabeth II, as part of her annual New Year honors list.
For Starr, who was awarded his MBE (Member of the Most Excellent Order of the British Empire) as part of The Beatles back in 1965 (which, at the time, prompted many previous honorees to return their awards in disgust), this honor was a long time coming, given that fellow Beatle Paul McCartney received his knighthood in 1997. Macca has even admitted to lobbying for Ringo to become a 'Sir.' In an interview with The Telegraph, McCartney said, " The last time I went by [Queen Elizabeth] was out. Otherwise, I would have popped in and said 'Look, love, Sir Richard Starkey,"
As for finally receiving his knighthood, Starr seemed completely chuffed by the honor. In a statement, Starr announced "It's great! It's an honor and a pleasure to be considered and acknowledged for my music and my charity work, both of which I love. Peace and love."
Source: axs.com