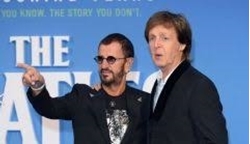 As British Prime Minister Boris Johnson struggles to remove Britain from the European Union -- which Brits voted for in June 2016 -- it's interesting to note that the famous Brit and Beatles drummer Ringo Starr strongly supports Brexit because the people voted for it, he says, and "it's a great move" to be "in control of your own country."
In a BBC Newsnight interview from 2017, which resurfaced on social media this week, Starr is asked why he supports Brexit.
"The people voted and, you know, they have to get on with it," said Starr. "Suddenly it's like, 'oh well, we don't like that vote.'"
"What do you mean you don't like that vote?" he said. "You had the vote, this is what won, let's get on with it."
The BBC then asked Starr, who now lives in the United States, whether he would have voted for Brext it in 2016.
Starr answered, "I would have voted for Brexit. Yeah, I would have voted to get out. But don't tell Bob Geldof!"
Bob Geldof, born in Ireland, is a left-wing activist and musician, most famous for starring in the 1982 film "Pink Floyd -- The Wall." Geldof thinks the arts will suffer if Britain leaves the European Union.
Source: Michael W. Chapman/cnsnews.com