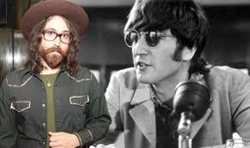 The Beatles came to an end in 1970. After just over ten years of working together, John Lennon, Paul McCartney, Ringo Starr, and George Harrison split somewhat acrimoniously, kickstarting the beginning of their own separate solo albums. A decade later, on December 8, 1980, John was murdered in New York by Mark David Chapman.
This weekend saw various celebrations on radio and TV marking the anniversary of the Beatle star's anniversary.
To commemorate the life and legacy of the exceptional talent, John's son, Sean Ono Lennon, sat down to listen to some of his best music, and discuss some of the behind-the-scenes stories of the star.
During his chat with Apple Music's George Stroumboulopoulos – Strombo – Sean explained how one album in particular was difficult for him to listen to even today.
Double Fantasy was the fifth and final album released by John and Yoko Ono.
Source: True Hollywood Talk/truehollywoodtalk.com