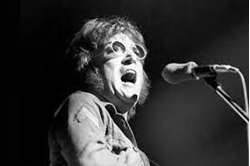 No matter how talented a vocalist is, some songs might cause them to struggle and even cause health issues. Especially when you need to scream at the top of your lungs, which is mostly the case with heavy metal bands, it becomes inevitable to hurt your throat or vocal cords after some time.
However, sometimes an artist doesn't need to be a heavy metal singer to shred their vocal cords. John Lennon, the frontman of one of the bands that provide their audience with a relatively calm and joyous feeling with their songs, also hurt his vocal cords once while trying to sing a Beatles song.

With a raspy singing voice that expressed a wide range of feelings, John Lennon became one of the most unforgettable voices in music history. Although insecure about his voice, Lennon was ranked number 5 among the 100 Greatest Singers Of All Time by Rolling Stone. Apart from using his voice to communicate sincere feelings, Lennon also screamed his emotions in some songs.
Source: Elif Ozden/rockcelebrities.net