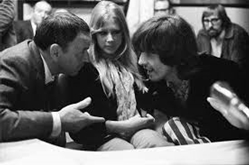 After The Beatles broke up, the questions didn't stop coming. People were still listening to the Fab Four's records throughout the 1970s and wanted to know everything — the meaning behind songs, who wrote and played what, and any other details a Beatle might divulge. (That hasn't really changed.)
Maybe the most popular topic was whether John Lennon or Paul McCartney wrote the main part of a Lennon-McCartney classic. Once an interviewer got that answer, they usually shifted to the inspiration for the song and how it got made (who played what, etc).
Fortunately for Beatles fans who enjoy in-depth looks at the music, John and Paul usually obliged. However, the meaning behind a few songs has remained obscure over the years. "And Your Bird Can Sing" (Revolver) is one of them.
Source: cheatsheet.com