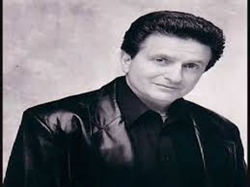 When Joe Pesci dropped out of the acting game in the late '90s, word was he'd be playing more golf and might get back to his first career, music. Before making his name as an actor in Martin Scorsese movies, Pesci played guitar and sang in bands around New Jersey and New York.
In fact, Pesci played in a band called Joey Dee and the Starliters that later featured a guy named Jimi Hendrix on guitar. But Pesci had already made his mark on music history when he introduced Frankie Valli to Bob Gaudio, basically launching the Four Seasons in 1959.
Now, decades after Pesci released the absurd Vincent LaGuardia Gambini Sings Just For You (1998), he has a new record coming out in time for the arrival of The Irishman on Netflix. And it includes not one but two duets with Adam Levine of Maroon 5.
Pesci's latest features mostly jazz standards, which is a slight departure from his first record, 1968's Little Joe Sure Can Sing! That obscure album went out with three covers of Beatles songs.
Source: cheatsheet.com