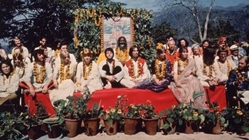 The Beatles and their wives at the Rishikesh in India with the Maharishi Mahesh Yogi, March 1968. The group includes Ringo Starr, Maureen Starkey, Jane Asher, Paul McCartney, George Harrison (1943 - 2001), Patti Boyd, Cynthia Lennon, John Lennon (1940 - 1980), Beatles roadie Mal Evans, Prudence Farrow, Jenny Boyd and Beach Boy Mike Love.
OPINION: Here's a story to please anyone who thinks that the signature note of the universe is irony. But first a little research task for you.
Go find someone of my generation. It shouldn't be hard. Look for a stately mien, hard-earned wisdom and slumping dugs. If unsure ask for help fixing your cell phone. If your interviewee bursts out laughing you're there.
Now tell him or her you want to know the first thought that comes into their mind when you say the word maharishi. And I'll wager a fat bottle of shiraz that anyone my age will say the Beatles.
To my generation all pop music is a footnote to the Beatles. When I was young it was compulsory to have an opinion on all four members of the group. I thought Lennon pretentious, McCartney saccharine and the other two characterless and I've seen no reason since to change my view. Like everyone else I've got several Beatles songs seared in my skull but that's only because the tunes were catchy. The lyrics had all the profundity of a mid-priced greeting card.
Source: stuff.co.nz