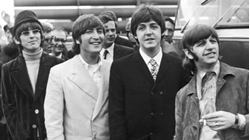 The Beatles have announced they will release a suite of lavishly presented The White Album packages to celebrate its 50th anniversary.
Released November 22nd 1968, The Beatles (soon to be better known as The White Album) was that year's most anticipated music event with millions of double LPs shipped to record stores worldwide.
Entering the British chart at number one and remaining there for eight of the 22 weeks it was listed, The White Album also debuted at number one on the U.S. chart, holding the top spot for nine weeks of its initial 65 week chart run.
Source: Will Lavin/joe.co.uk