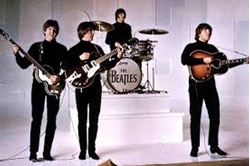 It was 57 years ago today that The Beatles performed their first US concert. On February 11, 1964, two days after their appearance on The Ed Sullivan Show, the Fab Four's American gig took place at the Washington Coliseum which had been set up for boxing. This meant that John Lennon, Paul McCartney, George Harrison and Ringo Starr had to perform in the unroped ring, which wasn't ideal as they'd only be facing 25 per cent of the audience at one time.
So in-between songs The Beatles had to stop three times to rearrange the microphones and turn Ringo's drum kit around.
Over 350 police officers surrounded the stage, with one finding the noise so loud he used two bullets for earplugs.
The 35-minute set saw The Beatles perform: Roll Over Beethoven, From Me to You, I Saw Her Standing There, This Boy, All My Loving, I Wanna Be Your Man.
Source: George Simpson/express.co.uk