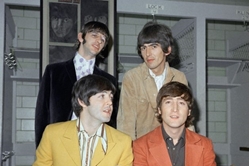 Ever needed to know if The Beatles are still alive or if they did drugs? Here's our helpful answers to the most-Googled Beatles questions on the net.
As you'll know if you've ever found the question 'what is an EU, please?' in your granny's search history, people ask Google some pretty odd things.
Here, for example, are the most-Googled questions about The Beatles, for which we've helpfully provided answers…
Are the Beatles still alive?
Yes and no. The band itself suffered death by solo project in 1970, but half of the band's members, Paul and Ringo, survive today. John Lennon was shot dead by fanatic Mark Chapman outside his home in the Dakota Building, New York, in December 1980 – terrifyingly, Chapman had a front row ticket to watch David Bowie in The Elephant Man on Broadway for the night after the Lennon murder; Bowie was second on his hit list. George Harrison died from cancer in 2001, his ashes are scattered in the Ganges and Yamuna rivers in India.
Who owns the Beatles catalogue?
Currently Sony/ATV Music Publishing owns the Beatles' publishing, although Paul McCartney has begun the process of claiming his share of Lennon/McCartney songs back, since ownership starts to revert to him in 2018. It's been a bone of contention for Macca ever since he turned Michael Jackson on to the value of owning the publishing in songs, only for Jacko to buy a hefty chunk of Paul's own catalogue by acquiring ATV.
By: Mark Beaumont
Source: NME