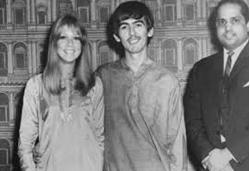 When you dig into the unmatched success of The Beatles, you can't help noticing how the group (and its producer) shied away from releasing George Harrison songs as singles. If you're looking for a Harrison song on the A-side of a Beatles single, you have to wait until Abbey Road (1969).
That's when "Something" went out as a double A-side release with John Lennon's "Come Together." Abbey Road was, of course, the last album the Fab Four recorded. Given the dearth of quality Harrison material on Let It Be (1970), "Something" (or "Here Comes the Sun") represented Harrison's last shot at an A-side.
Harrison had landed his first B-side of a single just the year before. That happened when The Beatles released "Lady Madonna," a Paul McCartney composition, in March '68. Harrison's B-side on the single never went out on a Fab Four studio album, and it was unique for several other reasons.
Source: cheatsheet.com