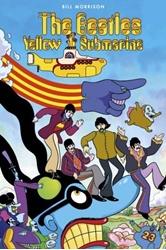 Incoming MAD Magazine editor Bill Morrison will write and illustrate Titan Comics' adaptation in time for the movie's 50th anniversary next year.
The Blue Meanies are about to invade comic book stores.
In time for the 50th anniversary of the Beatles' beloved animated movie Yellow Submarine, Titan Comics will release an all-new comic book adaptation of the feature.
The movie, originally released in July 1968, saw animated versions of Paul, John, George and Ringo led to Pepperland by Captain Fred in an attempt to rescue it from the menace of the music-hating Blue Meanies. A mix of psychedelia and straight-forward animation that featured unreleased Beatles tracks and a cameo from the live-action band themselves, Yellow Submarine went on to become both critically acclaimed — it received a New York Film Critics Circle Special Award in 1968 — and warmly embraced by fans.
Source: Graeme McMillan (Hollywood Reporter)