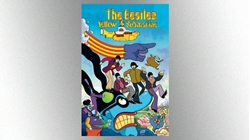 In honor of the 50th anniversary of the classic animated Beatles film Yellow Submarine , an authorized graphic-novel adaption of the movie will be published on August 28 by Titan Comics.
You can get a preview of the colorful book by checking out a new video trailer that's been posted on the company's YouTube channel . The clip features animated scenes from various parts of the comic, along with text that reads, "Join John , Paul , George and Ringo on a nautical adventure as they battle to free Pepperland from the music-hating Blue Meanies."
The novel was adapted and illustrated by Bill Morrison , who's the current editor of MAD magazine and also has served as an illustrator for The Simpsons comics.
Judging by the trailer, the book's illustrations faithfully recreate the dazzling, psychedelic imagery featured in the film, which premiered in July of 1968.
Source: Midwest Communications Inc./wabx.net