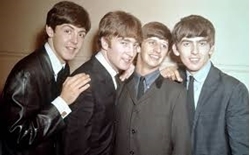 When Beatles fans in America think of "Beatlemania" and the 1964 British Invasion, most think of "I Want to Hold Your Hand" as the signature song of that moment. They have good reason to do so: That track represented the band's first No. 1 hit on this side of the Atlantic.
However, the Fab Four had notched several No. 1 hits in the UK by February of '64. "Please Please Me," the band's first huge success on the charts, went all the way to No. 2 in early '63. That April, "From Me to You" became the first chart-topping single on the Beatles' resume.
In July , The Beatles were the dominant force in British pop and went to EMI studios on Abbey Road to record their next single. Prior to the actual recording session, the band took some publicity photos outside.
Source: cheatsheet.com