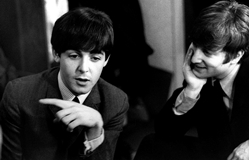 After getting the offer for their first recording contract in 1962, The Beatles made a personnel change. They decided to drop Pete Best and bring in Ringo Starr, who occasionally sat in with the band, as the full-time drummer.
It wasn't a rash decision. George Martin, who'd go on to produce nearly all of The Beatles' hits, said Best wasn't good enough to record in the studio. Ringo completed the band as a legitimate player. And then it became time to get down to business.
Once they started recording, The Beatles tried to convince Martin to record one of their own tunes as the band's single. But Martin wanted the group to play "How Do You Do It" instead. Eventually, the producer agreed to release John Lennon and Paul McCartney's "Love Me Do" as the first Beatles single.
By 1964, with their eyes on a debut U.S. tour, Paul believed the only way to arrive in America was with a No. 1 hit. With "I Want to Hold Your Hand," a Lennon-McCartney tune recorded in late '63, they had their ticket to ride.
Source: cheatsheet.com