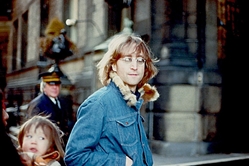 As The Beatles notched No. 1 hit records and sold out shows across the world, manager Brian Epstein had a strict policy when it came to politics –especially in America. The policy was simple: Don't let the Beatles say anything about politics, and don't allow the press to ask about it, either.
Eventually, John Lennon tired of the situation and planned to speak out about the Vietnam War and other issues. When Epstein died in 1967, all bets were off. The following year, John wrote and recorded "Revolution," which was the first time fans got a taste of the band's political side.
In 1969, after marrying Yoko Ono, John's "Give Peace a Chance" instantly became an anti-war anthem (and a genuine hit, too). By November, half-a-million demonstrators would flock to Washington D.C. to sing the song in protest of the situation in Vietnam.
That was enough to get the attention of President Nixon and the FBI. However, it wasn't until John recorded a protest song in 1971 that the FBI became really interested. After putting John and Yoko under surveillance, the Nixon administration even tried to deport the former Beatle in '72.
Source: cheatsheet.com