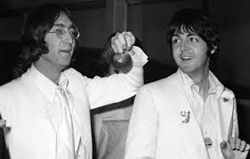 In the summer of 1968, the other three Beatles watched as Ringo took off for Italy after taking flack from Paul McCartney for the drum part on "Back in the U.S.S.R." When George staged his own walkout early the following year, people around the band couldn't help thinking the end was near.
To Geoff Emerick, the legendary engineer behind Sgt. Pepper's and Revolver, the happiest he remembered John and Paul toward the end was early '68, when they were recording "Hey Bulldog." Prior to the heated White Album sessions, the old songwriting partners/friends still had their moments.
A lot changed with the arrival of Yoko in the studio, and true Lennon-McCartney collaborations became fewer and farther between. However, early in the Abbey Road sessions, John and Paul found that old spark. It happened when they picked up a crazy old song from two years earlier.
Source: cheatsheet.com