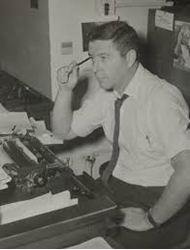 The most popular newspaper columnist in Chicago, Jack Mabley had one job on Sept. 5, 1964 -- introduce The Beatles to the screaming crowd at Chicago's International Amphitheatre.
Mabley got that honor at the band's first Chicago concert in the oddest of ways. When Beatlemania started sweeping through the United States for the group's 1964 tour, Mabley thought it was a joke.
"I think they're funny. They keep telling interviewers they can't sing," Mabley wrote. "They're laughing at music, they're laughing at the kids, they're laughing at the world, and even at themselves."
The Glenview dad infuriated his three daughters by suggesting that The Beatles "wouldn't even be remembered" in 25 years.
The National Association for the Advancement of Beatle People made Mabley member No. 122, and Chicago promoter Frank Fried gave Mabley an invitation to introduce John Lennon, Paul McCartney, George Harrison and Ringo Starr.
Source: Burt Constable/dailyherald.com