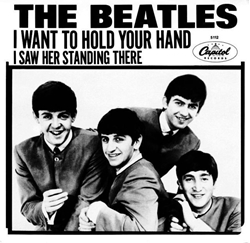 There are moments where history changes very, very quickly — floodgates open, landscapes reshape themselves, comets crash into land. When the Beatles finally arrived in America, that was one of those inflection-point moments.
In terms of sheer popularity — nothing else, just popularity — the Beatles did things that nobody else will ever accomplish. Between 1964, when they first showed up on our shores, and 1970, when they finally broke up, the Beatles had 20 singles that appeared at #1 on the Billboard Hot 100. They spent a grand total of 59 weeks at #1. As a commercial entity in America, they only really lasted six years, and yet they spent more than a year of that time at #1. After they broke up, every member of the band had multiple solo songs that made it to #1 — yes, even Ringo. As solo artists, they kept hitting #1 into the late '80s. Their run was baffling, monumental. They were vikings, visigoths, conquistadors. They ransacked our land and left it looking completely different.
It was instantaneous, more or less. The band was a phenomenon in the UK all through 1963, but Capitol, the American subsidiary of their label, was reluctant to release their music over here. Instead, the band released a couple of singles on smaller labels in the US in 1963.
Source: Tom Breihan/stereogum.com