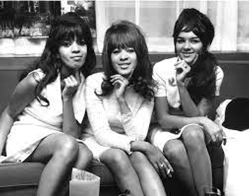 The Beatles' George Harrison and The Ronettes' Estelle Bennett didn't bond over being the quiet members of their respective bands. George wasn't "the quiet Beatle" any more than Bennett was "the quiet Ronette." In the early 1960s, those were just the nicknames the press gave them for unknown reasons.
If George and Bennett really were quiet, they never would have struck up a conversation with each other at a party in 1964. They wouldn't have dated or talked for hours on the phone late into the night either.
According to Ronnie Spector, Bennett's sister, and fellow Ronette, the girl group first met The Beatles on their first tour of the U.K. in 1964. Both groups attended a show-business party in London and quickly became friends. However, two of The Beatles had other ideas.
Source: cheatsheet.com