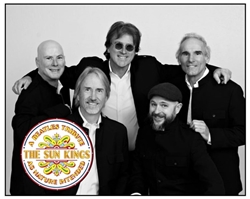 The Sun Kings' motto is "A Beatles Tribute as Nature Intended." Eschewing costumes, wigs, mustaches or faked accents, the San Francisco Bay Area-based band focus on capturing the essence of the Beatles and faithfully recreating their music on stage.
On March 10, 2018 at the Downtown Theatre in Fairfield, they will celebrate the 50th anniversary of the release of "The Beatles," the so-called White Album, by performing it live in its entirety, in record order. The Sun Kings are Drew Harrison as John Lennon (vocals, rhythm guitar, percussion), Scott Southard as Paul McCartney (vocals, bass guitar, piano), Bruce Coe as George Harrison (lead guitar, keyboards, vocals) and Steve Scarpelli (drums, percussion, vocals).
While the real Beatles had a number of people sometimes referred to as the unofficial "5th Beatle" ranging from their producer Sir George Martin to musician Billy Preston, The Sun Kings have an actual full-time 5th Beatle, Michael Barrett as the orchestrator (keyboards, harmonica, percussion, vocals).
Source: Tony Wade/dailyrepublic.com