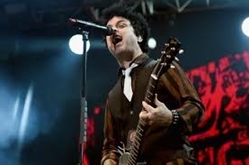 here were five months between the announcement and the release of Green Day's new album, Father of All…, and even though it's the band's 13th studio LP, frontman Billie Joe Armstrong admits he still gets nervous with anticipation.
"I have a hard time sleeping and I try to distract myself as much as I can," he told DK of ALT 105.3 in San Francisco.
There was nothing to worry about, of course, now that we know that the concise 10-song, 26-minute '60s pop-inspired album to be another win for Green Day.
But a social media question from a listener brought Billie Joe back to another moment when he had to catch his breath. A fan wanted to know the last person to make him starstruck. The year was 2015 and it involved the surviving Beatles.
"When we got inducted into the Rock & Roll Hall of Fame and Ringo (Starr) was doing a sound check and we're standing next to Paul McCartney's bass amp and he was relearning how to play the bassline to '(With) a Little Help From My Friends,'" Armstrong recalled. "And I just sort of looked over at Mike (Dirnt) and I was like 'I can't even believe what is happening right now.'"
Source: By Bob Diehl, RADIO.COM