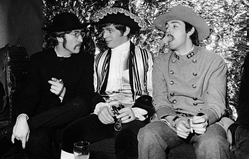 After nearly a decade of making great music together, John Lennon clearly got sick of Paul McCartney, and vice versa. For John, there was only so much "She's Leaving Home" he could take. On Paul's side, listening to Yoko Ono scream into a mic during recording sessions was driving him nuts.
Once The Beatles broke up, John and Paul took to song to express their annoyance with each another. Paul sang that John took "his lucky break" and "broke it in two." He saw John's prospects with his new partner as bleak. "Now what can be done for you?" he asked in "Too Many People."
In response, John dispensed with politeness and described Paul as "dead," someone who made "Muzak" and lived among the squares. Meanwhile, the two spiced up their musical battles with plenty of insults in the rock press.
Source: cheatsheet.com