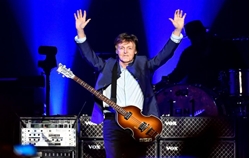 The Beatles icon shared his thoughts on formal music education, new music and how the toilet is a good place to write music...
Paul McCartney took part in a Q&A with Jarvis Cocker today at the Liverpool Institute of Performing Arts (LIPA), a school he founded in 1996.
Offering a "new approach to performing arts training" LIPA offers arts training that is both different and out of the ordinary – a bit like McCartney's own music training which had little formality.
In his chat today, McCartney shared his wisdom on why old school recording techniques are still the best, why musicians should return to making "concept albums" and why, crucially, the bathroom is the best place to write your music.
Here is, the wisdom of Macca…
Source: Elizabeth Aubrey /nme.com