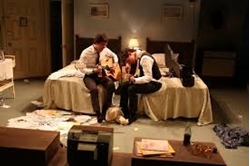 Several years ago, Paul McCartney, in an interview with Terry Gross on National Public Radio's "Fresh Air," revealed a very personal moment he shared with John Lennon during a drunken night in a Florida motel in 1964. Television writer Bob Stevens happened to be listening and found it irresistible.
"Only Yesterday," in its world premiere production by Northern Stage, opened Saturday at the Barrette Center for the Arts. Stevens has created a well-researched story that is not only heartwarming, heart-wrenching and very funny, but feels totally authentic. And Northern Stage delivered it in spades.
The 75-minute play is based on McCartney's revelation that he and Lennon ended their night of drinking with both of them crying. (Unless you heard the interview, you'll have to see the show to find out why.) This happened while the two were sequestered in a Key West motel room by a hurricane during their second American tour.
John and Paul aren't exactly thrilled to find themselves in this situation, young men in their early 20s with their first day off in forever with nothing to do. And the bar doesn't open for a while.
Source: By JIM LOWE/STAFF WRITER