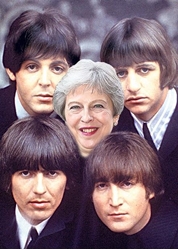 THERESA May has revealed her secret favourite band — The Beatles.
She also admitted she is a fan of the late Whitney Houston.
Theresa May's favourite band is The Beatles...how she would look with the Fab Four
The PM confided her musical tastes to pianist Davide Foroni at a five star Italian hotel on her walking holiday last week.
It came after she led guests in a stirring rendition of the national anthem which he played on the piano.
Davide told The Sun on Sunday: "Mrs May came and thanked me and we discussed her musical tastes.
"She likes everything from classical to contemporary and jazz.
Source: By Nick Pisa/thesun.co.uk