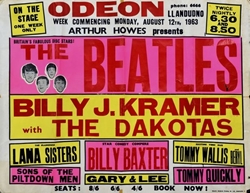 To paraphrase that famous Beatles lyric: "It was 50 years ago today Sgt Pepper taught the band to play."
And, to celebrate the half-century since the release of the Fab Four's seminal album Sgt. Pepper's Lonely Hearts Club Band, here's our rundown of the Mersey moptops' little known links to Wales.
Lennon was airlifted to Abergavenny:
The hysteria that followed The Beatles around was felt in such places as Abergavenny Town Hall Ballroom, which local promoter Eddie Tattersall had secured for the tiny fee of £250 in 1963, having luckily booked them just before they hit the big time.
However, in the run up to the show, John Lennon had been double-booked with an appearance on the BBC's Jukebox Jury, leaving manager Brian Epstein to arrange a helicopter - at a cost of more than £100 - to take him from Battersea Heliport in London to Penypound Football Ground in order to make the gig.
They caused uproar in Llandudno:
But it was at a later two-night stint at the Odeon Cinema in Llandudno that the full weight of Beatlemania really became apparent.
Billed as "Britain's fabulous disc stars", the scenes at the shows drew in furious letters of complaint to the local newspapers, one disgruntled reader commenting: "While having a more than mild interest in the popular music of today, I was appalled and disgusted at the unbelievable display of mass hysteria which took place at the theatre."
By: Nathan Bevan
Source: Wales Online