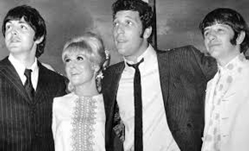 TOM JONES said when John Lennon insulted him the first time they met in 1965 and mocked his music, he wanted to "take him outside and give him a hiding." The Welsh star later told the story to a delighted Elvis who had his own feud with the Beatle. Ten years later, Jones had the last laugh at a major star-studded televised event.
Lennon was famous for his sharp tongue. Although he often explained his comments away as dry humour, they often had a harsh bite and were sometimes a little cruel. In 1965, Jones was a young aspiring star, enjoying his first hit on the charts, It's Not Unusual. He was not expecting the biggest pop star in the world to insult him when they met backstage on the TV show Thank Your Lucky Stars, but he was ready to fight back. And Elvis was very impressed when he heard the story later.
Jones said: "I was doing Thank Your Lucky Stars. I had It's Not Unusual out, my first hit record, in 1965. The Beatles were on the show.
"I went to watch them rehearse in the afternoon. I'm sitting there where the audience would be later on, with my manager Gordon Mills. I'm waiting for The Beatles to come on; I want to watch them rehearse, you know.
Source: Stefan Kyriazis/express.co.uk